Welcome to Olney!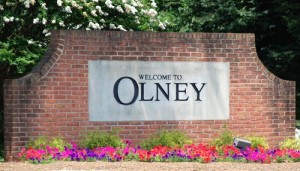 Olney, Maryland was ranked by Money Magazine's 2007 "America's Best Places To Live" edition as 17 out of 100 (the highest ranking in Maryland) and also rated as one of the Top Ten places to live in Maryland by Movoto!
Located in northern Montgomery County, Olney is just 20 miles north of Washington, DC and 30 miles west of Baltimore.
Almost entirely rural just a few decades ago, Olney has grown steadily since the 1960's as very large tracts of farmland were redeveloped into residential developments, featuring a mix of single family and townhouses. Within the expansive boundaries of the Olney Eruv, you can easily find a wide range of housing options in every price range.
Olney (and neighboring Brookeville) boasts many public parks, recreational facilities, and plenty of walking paths. In addition, there are four major shopping centers in the Olney Town Center located at the intersection of Route 108 (Olney Sandy Spring Rd) and Route 97 (Georgia Ave).
The Olney Farmers and Artists Market is open each summer and features delicious fresh local produce from local farms, and crafts from local artisans.
The Olney Theatre Center, founded in 1938, offers a diverse array of professional productions year-round.
Come visit Olney for shabbos – it's an experience you won't soon forget!